Tutbury Street Names - old and new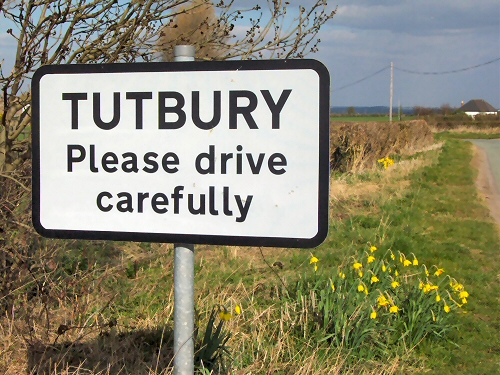 <<< Click on map to see location of modern streets

Burton Street

Associated with the Burton family who owned Fauld Hall and a house in Tutbury called Burton Hall. Oliver Burton was steward of the Manor of Tutbury in the time of Richard ll (1377-99).

William Burton was standard bearer to Henry Vl during the French wars.

Portway

Became A50 - Now the A511

The turnpike road between Tutbury and Burton, so called because it was the pack road over which mule trains carried wood and other goods. (French porter = to carry).

Called 'The Street' in 942AD, supporting the argument that this follows the line of a Roman road, which by tradition ran from Branston, by way of Castleway Baulk in Shobnall and across the Horninglow Moors.

The Portway Cross stood at the junction of Dodslow Lane, Portway and Longhedge Lane. Crosses marked boundary points where no natural landmark was available. In the 18th cent the toll gate stood at Burton St and Ironwalls Lane.

Top photo taken during development of by-pass

High Street

High indicating 'most important'.


Formally Market St after the medieval market held here on a Tuesday.

Cornmill Lane

After the Mill - Formally Mill Lane.

Lower High Street

Formally Cheapside – with a connection with the market (in Old English, 'ceap' means to barter). Previously Dove St.

Little Bridge

Over the Fleam.

Weir Lane

Leads from Bridge St to the weir – now a footpath

Bridge Street

Leads to the bridge.

Monk Street

Reference to the monks at the Priory. Sometimes called Back St.

Picture taken in the 1950s

Church Street

Nearest street to the Church.

Picture taken before building of Health Centre

Duke Street

Formally Duck St. – reference to ducks on pond.

Previously Brook St.

Castle Street

Nearest street to the Castle.

After Anthony Babington, instrumental in the plot to rescue Mary Queen of Scots.

Now Wakefield Avenue

Holts Lane

Letter from Aubrey Bailey

Assumed to be named after John Holt, Vicar of Tutbury. In 1478 he was sued for releasing his own cattle (that had strayed on unfenced common land) from the pound at Hanbury without paying the fine - a serious offence at the time.

Park Lane

Reference to Park Pale or Castle Hay Park. Runs along the line of the Iron Age Walls.

Ludgate Street

Formally Lydgate Street because it ran to the 'Lyd' Gate in the town wall. Very narrow and typical of a medieval town street.

Picture taken before farm demolished

Iron Walls

Runs along the line of the Iron Age Walls.

Green Lane

Red Hill Lane

Castle Hay Lane

Castle Hay ( = The Hay of the Earl) owned by Robert de Ferrers around 1139.
Set aside as a breeding ground for war horses, previously bred on top of one of the castle baileys.
The Tutbury Stud provided horses for the Kings of England for several hundred years.

Clay Pit Lane

Cock Shoot Lane

Barn Close Lane

Woodingway Lane

Bushton Lane

Leads to Bushton

Fauld Lane

Leads to Fauld, formally Woodhouse Lane.
Tutbury Woodhouse was a manor in its own right in 1200. Now, Woodhouse Farm is all that remains.
Owned by the Gresley family until 1600, Mosley until 1901 and then sold to King Edward Vll, so it returned to the Duchy.

Mill Way Baulk

(or Cornmill Baulk) and now a footpath between Cornmill Lane and Burton St.

Part of the continuous path around outer walls and possibly the oldest footpath in England.

Hilly Field Lane

Rolleston Lane

Rolleston Park Lane

Fiddlers Lane

Pinfold Close

A pound for stray cattle.

Priory Close

Commemorates the Priory.

Lancaster Drive

Reference to House of Lancaster.

Norman Road

Reference to Norman Lords.

Queen's Rise

Reference to Mary Queen of Scots.

Elm Lane, Forest Road and Belmont Lane

Now Belmot Road

The old house was 'The Elms' on this site, opposite was the stables.

Leading to Belmot Common, Gate and Farm.

Leads to Needwood Forest.

Silk Mill Lane

Near the former silk mill.
Rapid change from silk to cotton in the 1780s forced many silk mills to close down.
In 1793, 4,000 looms were shut down in Spittlefields (London) alone.

Wakefield Ave

Reference to Richard Wakefield

Needwood Court

Reference to Forest of Needwood.

Fishpond Lane

Medieval fishpond here – formally The Croft.

Ferrers Ave

After the De Ferrers family, first Norman Lords of the Manor.