Further Information & Links
All information on this site is correct to our knowledge. Any further information may be obtained from sources listed below.
Tutbury Museum & Information Centre, Charity House, Duke St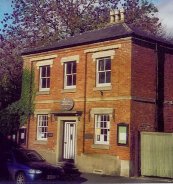 In Tutbury there is a building that contains the treasure of a thousand years. Not gold or silver jewels, but something of a rarer quality - passing thoughts, unusual stories and fading memories.
For unlike the thousands of museums packed with dusty artifacts from distant unrecognizable days, Tutbury Museum is about real, down-to-earth people.
It does delve into the dim recesses of the village's history, but above all it stresses the lives of the residents that give Tutbury its colourful past.
Mr. Aubrey Bailey built up the collection over 20 years, storing relics like a magpie.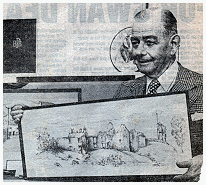 "It goes back to the days of Reg Farmer, the Chairman of the Trustees of Tutbury Parish Charities, who loved stories," he said. "We used to swop them, sometimes talking for hours, and he said somebody ought to write them down. So I met all the old characters and took their photos and some of them said: 'I've got so-and-so at home and you might be interested'. "It all started from there."
Mr. Bailey had so many items given to him by Tutbury residents that he filled two rooms at the Charity Offices in Duke Street. He was given permission by the trustees to open up his collection as a museum and visitors are able to see it by prior appointment. Even the building tells a story. It used to house the village's soup kitchens, a regular stopping off point for tramps on their journeys from Burton to Uttoxeter.
At the heart of the collection are six volumes carefully researched and written by Mr. Bailey. One of the books details the village's history while another is a diary of important events over the last 1,000 years, covering such diverse topics as the visit of Mary, Queen of Scots and the foundation of Tutbury Allotments' Association. Another tells of the area's industries, including artificial fly tying, gypsum mining and glass making, and one has an account of local families.
The photographs alone spark off a host of Mr. Bailey's lively stories. Who has heard of Station's Eye-openers, Tutbury's high-powered tug-of-war team who won the national championship? Or does the name Roger Woolley ring a bell, the village's master fly tier?
Scores of ancient football and cricket teams peer down from the walls, and there is a selection of photos of the gypsum works which have surroundings carved with a razor from oak barrel staves. Mr. Bailey's grandfather's beer mug sits next to a noisy crow scarer while overhead hangs part of a World War I German plane and Second World War relics.
The town crier's bell and the castle curfew bell hint at a noisy past, while the village's artistic history is well represented. Paintings and drawings by Tutbury residents past and present line the walls, and there is a collection of Webb Corbett glasses from the earliest days. There are model caravans built by a resident, a fruit bowl made from a beam made from Tutbury Station, and tiles showing scenes from Shakespeare's plays. There's a sample of pillow lace and a fine collection of British birds' eggs.
The latest acquisition is Trent Valley Glassworks' own museum collection. In fact, the museum's fame is spreading far and wide with visitors from America, Australia and New Zealand. And there was one university professor who came to find out about his relative who slit his throat with a razor.
The museum is the culmination of Mr. Bailey's life-long interest.
Brochures, leaflets and maps are available from:
Many local shops
Village noticeboards
The Museum in the Charity House, Duke Street
The Tutbury Village News
Burton upon Trent Tourist Information Centre, Coors Visitor Centre, Horninglow Street, Burton
Books and Pamphlets:
The History of Tutbury and Rolleston
by Charles H Underhill
published by Rolleston Parish Council
(1949, reprinted 1975)
The Natural History of Tutbury
O Mosley and E Brown (1863)
A Guided Stroll Through The History of Tutbury
by Don Coxon
published by Tutbury Tourism and Trade Association
Official Guide to Tutbury
Edited by Aubrey G Bailey
published by The British Publishing Company Limited,
in association with Tutbury Adelphic Club
Tutbury Guide
published by The Tutbury Civic Society
available in local shops
Tutbury - In Burgo Circa Castellum
Reflections of Life in the Village
by Aubrey G Bailey;
vols 1 and 2 published by The British Publishing Company Ltd
vol 3 published privately (1985)
Guide to Tutbury Castle
by Sir Robert Somerville
published by the Chancellor and Council
of the Duchy of Lancaster (1960, revised 1964, 1968)
A School Intended and Since Built
The Story of Mr. Wakefield's School at Tutbury 1733-1990
by R W Pye
published by R W Pye (1992)
The Land of the Dove
Story of an English river
by David J Ford
published by Churnet Valley Books (1999)
Secret Underground Cities
Stories of ammunition storage depots, factories and treasure houses
by N J McCamley
published by Leo Cooper (1998)
Related Links

News, Events and Local Information for Tutbury

An excellent local Tutbury graphic & web designer - also my daughter and a major force in the design of this site!

Thank you Hellie.

Anything to do with Burton upon Trent

The site will cover all aspects of the county's history

The Gateway to Staffordshire Villages and Communities on the Web

the BBC's local news, sport, travel and entertainment reporting on the web

Places to visit and plenty of web links to visitor attractions

A thousand years of Staffordshire's churches

An exhibition of a thousand years of Staffordshire's churches

27,500 communities online

Bringing together news, information, and discussions on UK villages

Member sites contain information about villages in the British Isles or Irish Republic.

Fast-track to UK Village Websites

The definitive on-line resource for map-based visitors

Explore the castles of England, Scotland and Wales