Local Place Names
Tutbury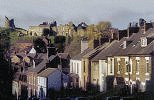 Reflects once again the dominance of the castle (or at least the fortifications) in the locality. The ending -Bury is Anglo-Saxon and indicates a 'fortified place'. The name was originally TOTTA'S BURY i.e. the fortified place of an Anglo Saxon called Totta.
Other local examples include Hanbury: don't know of any fortifications, but it is another excellent site, being on a steep hill. There certainly was a nunnery there, founded in about 700 AD by King Ethelred or his neice St.Werburgh. Another local example is Sudbury.
Through the years it has been TOTEBERIE in 1086 and TUTTEBURY in 1324. These changes in spelling don't necessarily mean that the name has actually changed, simply that there were no standard spellings in the Norman and medieval (and even later) times when the vast majority of people were totally illiterate. There have also been changes in pronunciation as spoken English has developed.
A very common ending locally is -TON. Also Anglo Saxon in origin and means 'homestead'. Local examples abound: Rolleston, Scropton, Hatton, Foston, Branston, Barton, Burton, Repton, Newton, Egginton, Willington, Stretton, Marston, Bushton, Hilton, Burnaston, and Walton. All probably indicate Anglo Saxon farms and small settlements.
Rolleston
Rolleston is an example that brings out some interesting points:
HROTHWULF'STON (7th century)
ROTHULFSTON (942)
ROLFESTUN (1008)
ROLVESTUNE (1086)
ROLVESTON (1121)

Rolleston was originally (in Anglo Saxon times) more important than Tutbury. Although Tutbury had a fort, at the time of the Domesday Book, Rolleston had a priest, a church and a mill (on the site of the Cornmill now in Tutbury), valued at 5 shillings. Tutbury had none of these and was included in the parish of Rolleston.

At one time, Rolleston was held by an Anglo Saxon called Tosti, brother of Harold Godwinson, later King Harold of England. When the Normans invaded in 1066, Tutbury fought against them, were beaten and the land given to a Norman Lord. Rolleston on the other hand did not fight against them and the Saxon Earls were therefore allowed to keep their lands. Thus Tutbury and Rolleston were now on equal footing.
Later (1069) the Rolleston Saxons rebelled against the Normans, were beaten and the lands handed over to the nearest Norman i.e. Henry de Ferrers in Tutbury. So Tutbury took dominance over Rolleston. Henry de Ferrers didn't waste much time in changing the boundaries to include the Mill in Tutbury, thus making sure he kept it under his control.